Psychotherapy for Individuals and Couples
Welcome to BodySoulConnections.com, the web site of Celena Allison, Licensed Marriage and Family Therapist. I am a psychotherapist with a private practice in Santa Cruz, California, offering psychotherapy and counseling to individuals and couples. I specialize in helping you to discover that part of you who has long been neglected: your core, authentic self. I work with couples to help them cultivate connection and support for each other in a healthy, conscious relationship.
Psychotherapy Focus & Perspective
I create with my clients a compassionate and caring setting in which to explore a variety of issues. Often I find that individuals (whether seen by themselves or in couples counseling) grow and evolve when they are in an environment that fosters their core, authentic self. I cultivate this connection by listening to and observing what it is you are truly interested in and passionate about and, by contrast, I help you discover the obstacles blocking your movement and growth. I offer the patience and containment to allow your process to unfold at whatever pace is necessary.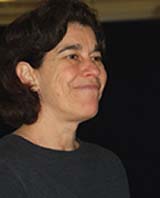 Photo by Barbara Susan Booth
Ultimately, I work with you to invite back into your life an authentic self who has long been in hiding. As you attend to your authentic self, it is possible you will unearth or rediscover your passion and true purpose in life. I work with you to have a voice with which to speak up on your own behalf and to live your life with meaning.
For More Information...
See Ready for Change? if you're feeling unhappy, discontented, and unsatisfied with how things are, and in need of someone who will help you discover your core, authentic self.
See Couples Therapy and Counseling if you are experiencing relationship discord and would like to explore how you can cultivate a healthy, authentic connection to each other.
See Therapy Sessions for information about clients I see, areas I address in my practice, and my clinical orientation.
Feel free to call me at 831.419.9224 or send email to