Friday, January 19, 2018
Psychotherapy for Individuals and Couples
Are you feeling isolated and disconnected from others, and perhaps, from a sense of purpose in life?
Do you feel anxious? Does anxiety get in the way of everyday living, or are you having panic attacks?
Do you feel like "everybody else has it together" except you? And, do you find it difficult to speak up on your own behalf?
Maybe you feel stuck and just don't know how to get going—yet your thoughts are constantly nagging at you to do just that.
Often these feelings have something to do with an innate desire to reconnect with your life. Perhaps you have become entrenched in a life that is less satisfying than it used to be. It is not uncommon that an underlying desire to feel more connected to others and your life purpose, is accompanied by feelings of anxiety, panic, depression, and/or feeling as if you have tried everything, and nothing seems to work.
I am a psychotherapist with a private practice in downtown Santa Cruz, California, offering Jungian-oriented psychotherapy and counseling to individuals and couples. I specialize in helping you to discover that part of you who has long been neglected: your core, authentic self. I work with couples to help them cultivate connection and support for each other in a healthy, conscious relationship.
Psychotherapy Focus & Perspective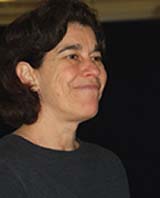 Photo by Barbara Susan Booth
It is important that you feel comfortable with, and understood by, anyone you work with in a therapeutic capacity. I make it a priority to create with my clients a compassionate and caring setting. I cultivate this environment by listening deeply, maintaining non-judgment, and observing what it is, you are truly interested in and passionate about. I help you discover the obstacles that seem to be blocking your ability to take action, and I offer the patience and containment to allow your process to unfold at whatever pace is necessary.
Ultimately, I work with you to invite back into your life an authentic self who has long been in hiding. As you attend to your authentic self, it is possible you will unearth or rediscover your passion and true purpose in life. I work with you to have a voice with which to speak up on your own behalf and to live your life with meaning.
For More Information...
See Feeling Anxious if you are feeling anxiety and/or panic and would like to explore new ways to relate to it.
See Ready for Change? if you're feeling unhappy, discontented, and unsatisfied with how things are, and you would like to change how you engage with life.
See Couples Therapy and Counseling if you are experiencing relationship discord and would like to explore how you can cultivate a healthy, authentic connection to each other.
See Therapy Sessions for information about clients I see, areas I address in my practice, and my clinical orientation.