Friday, January 19, 2018
Location & Map
My office is located in downtown Santa Cruz at 725 Front Street, Suite 200; Santa Cruz, CA 95060. There is ample parking* nearby and the building is wheelchair accessible.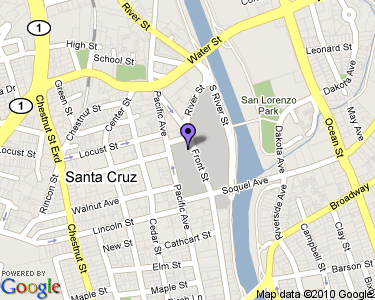 *River/Front Parking Garage
The River/Front Parking Garage (Lot No. 10) is located between River and Front Streets next to the Galleria Office Complex. (The garage is across the street, "kitty-corner" from my office building.) This lot has recently been converted to paid parking; you can expect to pay $1.00 for up to two hours. There is also metered parking located on various streets nearby. More parking information is available at City of Santa Cruz Parking.